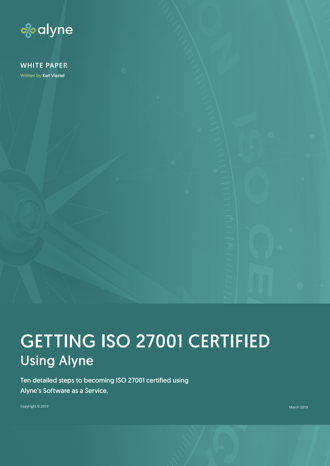 Benefits
Using Alyne to implement your ISMS provides you with some powerful advantages:
Content out of the box
Defining the right policies and developing a control framework compliant with the ISO/IEC 27001:2013 requirements takes a lot of time if you are starting from scratch. With Alyne, this is ready on day one.
Risk Analytics
An ISMS is very much based on a Plan-Do- Check-Act cycle: identifying risks and then mitigating them to continuously improve the ISMS. Identifying and quantifying the risks can be a difficult task. Alyne's risk analytics are a powerful tool for this.
Framework Synergies
With Alyne you can easily re-use the ISMS aligned with ISO/IEC 27001:2013 for your privacy management, IT governance, extended security management and many other areas without reinventing the wheel.
Lessons Learned: Being ISO Certified
Key lessons the Alyne founders learned during the first year of Alyne being ISO 27001 certified, with actionable success strategies
Corey Rice
QS SOLUTIONS
"By the way, the Alyne ISO27001 whitepaper was really helpful for our ISMS deployment. The stage 1 auditor was really impressed with the risk register and self-assessment capabilities!"
Mark Powell
FRANKIE
"Alyne has been tremendously helpful in streamlining our supplier due diligence process and managing our risk register in support of our APRA and ISO27001 certification requirements."